It's time for the Sassy Frazz Cyber Baby Shower hosted by Pamela at Happy Panda Baby! Click on the button below to go check out some great prizes and of course, your chance to win!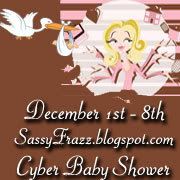 ">
And what would a baby shower be without games?
1) "Sweetest picture of Daddy with new baby"
2) Caleb I would guess...was 8 pounds and 7 ounces being a few days late.
3) I have made my creation out of wax then it was casted to become bronze and finally I added a batina to jazz her up.
I would love to have any of the following gifts:
Cute Slings
Boca Beth
Tiny Prints
Cushie Pushie
Baby Wrappe